Disc Brake Kit, Rear, Non e-Brake, 5-Lug (Porsche Pattern – 5×130 for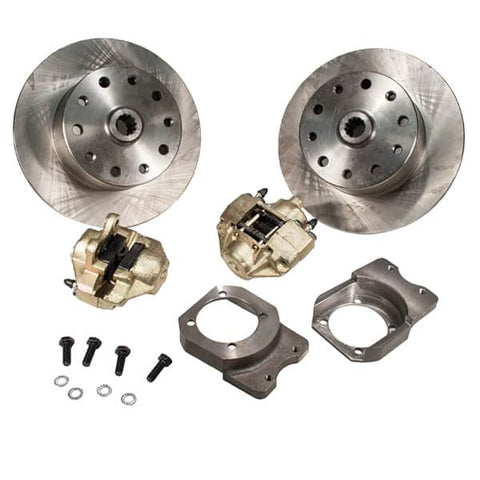 Disc Brake Kit, Rear, Non e-Brake, 5-Lug (Porsche Pattern – 5×130 for Studs or Threaded)
Description:
Short Spline Axle Rear Disc Kit, without e-Brake. Nodular iron bracket will not bend and keep proper alignment of caliper to the rotor.
Kit includes:
• (2) Rotors with 5-Lug Dual Pattern – 5 x 112mm & 5 x 130mm (Porsche & Bus) drilled and tapped for 14mm screw in wheel studs (available separately)
• (2) Calipers
• (2) Caliper mounting brackets
• (4) Brake pads #D101
• (2) Seal kit
• Mounting hardware
• Installation Instructions
Note: Will Fit '67 with Short Spline Axle ONLY!
Note: Requires two 25″ long metal brake lines part #113611764B
Stud Installation Note: These drums/rotors are drilled & tapped with a 14mm x 1.5mm threaded holes. If you chose to use a lug bolt, test fit the wheel to the rotor/drum before installation to confirm that the lug bolt doesn't protrude past the inside of the rotor/drum and hit other components. Check with the wheel manufacture or your installer to find out what stud is right for you.

Screw in Wheel Studs:
Wheel Stud, 14mm x 1/2″, part #601102
Wheel Stud, 14mm x 12 mm, part #601115
Wheel Stud, 14mm x 14mm, 1 1/2″ long, part #601111
Wheel Stud 14mm x 14mm, 1 3/4″ long, part #601120
Wheel Stud, 14mm x 14mm, 2 1/2″ long, part #601121
Application Info:
| MAKE | MODEL | YEAR | BODY TYPE |
| --- | --- | --- | --- |
| Volkswagen | Beetle | 1949 - 1967 | Convertible |
| Volkswagen | Beetle | 1949 - 1967 | Sedan |
| Volkswagen | Beetle | 1949 - 1967 | Sunroof |
| Volkswagen | Karmann Ghia | 1956 - 1967 | Coupe |
| Volkswagen | Karmann Ghia | 1957 - 1967 | Convertible |