Wheel Stud, M14-1.5 to 1/2″-20, Screw-in Style, For 4-Lug & Chevy / Fo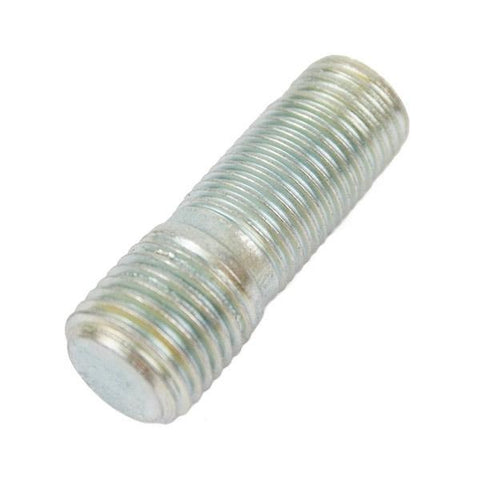 Wheel Stud, M14-1.5 to 1/2″-20, Screw-in Style, For 4-Lug & Chevy / Ford Style Wheels
Description:
If you need wheel studs to replace the lug bolts for your VW or conversion to alloy or custom wheels, this is your stud.
The over all length of the stud is 39 mm, the 14 mm (rotor side) threads are  10 mm long and the 1/2″ (wheel side) threads are 23.5 mm long.
So. Cal. Imports has the correct stud for your needs. Used for Beetles, Super Beetles, Ghia's, Thing's, Bus's and T-3's with 14 mm threaded mounting holes.
Wheel Stud, M 14-1.5 to 1/2 in.-20, Screw-in Style, For 4-Lug & Chevy/Ford Style Wheels. Sold ea.
Application Info:
| MAKE | MODEL | YEAR | BODY TYPE |
| --- | --- | --- | --- |
| Volkswagen | Beetle | 1968 - 1970 | Convertible |
| Volkswagen | Beetle | 1968 - 1972 | Sedan |
| Volkswagen | Beetle | 1968 - 1972 | Sunroof |
| Volkswagen | Bus | 1950 - 1967 | Split Window |
| Volkswagen | Bus | 1968 - 1970 | Bay Window |
| Volkswagen | Karmann Ghia | 1968 - 1972 | Convertible |
| Volkswagen | Karmann Ghia | 1968 - 1972 | Coupe |
| Volkswagen | Super Beetle | 1971 - 1977 | Sedan |
| Volkswagen | Super Beetle | 1971 - 1977 | Sunroof |
| Volkswagen | Super Beetle | 1971 - 1979 | Convertible |
| Volkswagen | Type 3 | 1965 - 1973 | Fastback |
| Volkswagen | Type 3 | 1965 - 1973 | Notchback |
| Volkswagen | Type 3 | 1965 - 1973 | Squareback |