Wheel Bearing Install Kit, Front Drum/Rotor, Inner and Outer, fits Apr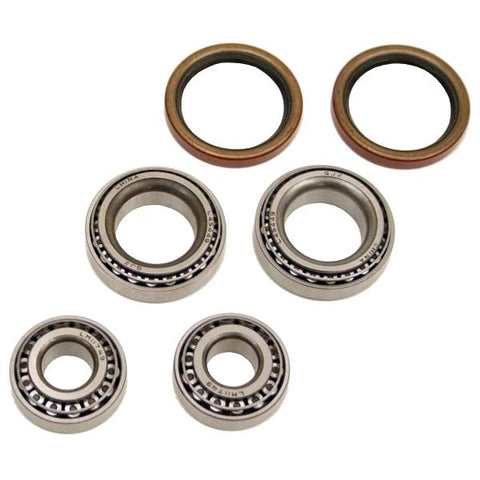 Wheel Bearing Install Kit, Front Drum/Rotor, Inner and Outer, fits April '68-'79 Bug, Ghia, Super Beetle, Thing & Type 3
Description:
This kit comes complete with all the items necessary to install new drums or rotors on a late model spindle, fits April '68-'79 Bug, Ghia, Super Beetle, Thing & Type 3.
Kit Includes:
• (2) Outer Wheel Bearings/Races
• (2) Inner Wheel Bearings/Races
• (2) Grease Seals
Note: All ball joint Beetle/Ghia spindles will interchange. Due to this, it is possible for your car to have the wrong year spindles. It is the responsibility of the person ordering to confirm that you are ordering the correct parts.  The easiest way to determine which spindles you have is to measure the hole in the spindle where the tie rod attaches to. On spindles made from 1966 to March 1968 the hole will be 10mm. On spindles made from May 1968-1977 the hole will be 12mm.
Application Info:
| Make | Model | Year | Body Type |
| --- | --- | --- | --- |
| Volkswagen | Beetle | 1968 - 1970 | Convertible |
| Volkswagen | Beetle | 1968 - 1977 | Sedan |
| Volkswagen | Beetle | 1968 - 1977 | Sunroof |
| Volkswagen | Karmann Ghia | 1968 - 1974 | Convertible |
| Volkswagen | Karmann Ghia | 1968 - 1974 | Coupe |
| Volkswagen | Super Beetle | 1971 - 1977 | Sedan |
| Volkswagen | Super Beetle | 1971 - 1977 | Sunroof |
| Volkswagen | Super Beetle | 1971 - 1979 | Convertible |
| Volkswagen | Thing | 1973 - 1974 | Base |
| Volkswagen | Type 3 | 1968 - 1973 | Fastback |
| Volkswagen | Type 3 | 1968 - 1973 | Notchback |
| Volkswagen | Type 3 | 1968 - 1973 | Squareback |