95mm, Porsche 911 JE Piston & Cylinder Kit 3.0L 10.5:1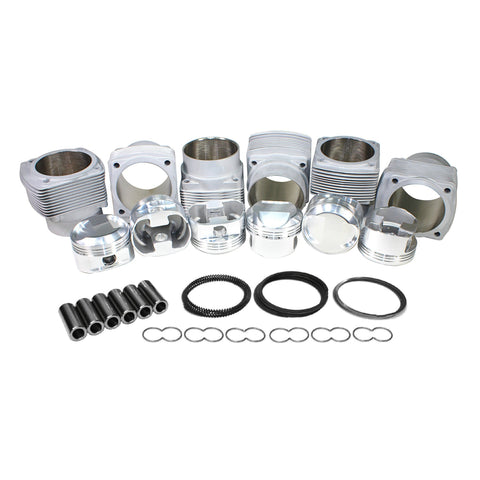 95mm, Porsche 911 JE Piston & Cylinder Kit 3.0L 10.5:1
Description:
This is a new set of 95mm Porsche 911 3.0L JE Pistons with Aluminum Nikasil cylinders. The Compression ratio is 10.5:1. JE Forgings are made from 2618 Aluminum. They have a 0 offset. Casted Aluminum Liners are Nikasil plated and precision honed by Millennium. These liners do not come with head gasket grove. JE 1.5, 1.75, 3.5mm ring pack, with wire locks. This kit requires no machine work, when installing in factory Porsche case & heads.
Engine size: 3.0L
Stroke: 70.4mm
Cylinders: Aluminum Nikasil.
Pistons: JE 2618 Forged
Dome CC: 44.7
Compression: 10.5:1, with 90cc head
Kit includes: 6 Cylinders, 6 Pistons, A set of Piston Rings, and 6 wrist pins and clips.
Part # 008 911 95S JE