86mm Porsche 356A & B JE Forged Piston & Cylinder Kit Biral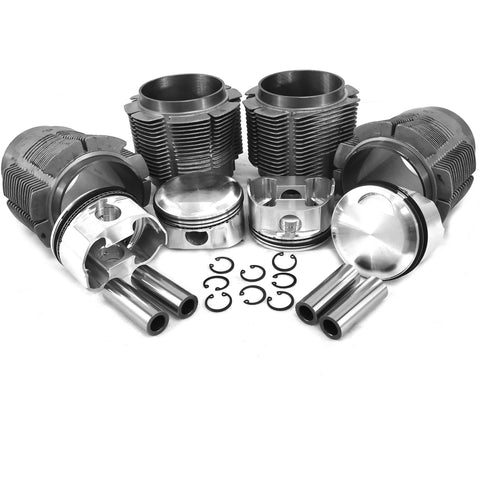 86mm Porsche 356A & B JE Forged Piston & Cylinder Kit Biral
Description:
This is a new set  86mm Porsche 356/912 JE pistons with Biral cylinders. It fits Porsche 356; A and B, Super 90, 1955-63 with the 3 piece Case. The Cylinders are Biral with JE Forged pistons with 22° Angle. JE Forgings are made from 2618 Aluminum, They have a 0 offset with extra material under the top for the valve pocket, Biral Liners are a cast iron sleeve with aluminum fins, making them lighter and dissipate heat better. This kit requires no machine work, when installing in factory Porsche case & heads.
Engine size: 1600cc
Stroke: 74mm
Cylinders: Biral.
Pistons: JE 2618 Forged
Dome Height: .155
Compression: 9.5:1
Piston Angle: 22°
Kit includes: 4 Cylinders, 4 Pistons, A set of Piston Rings, and 4 wrist pins and clips.
Part # 008 11 86B JE