Rear Disc Brake Kit, Non e-Brake, 1″ Offset, Weld On Brackets, Wide-5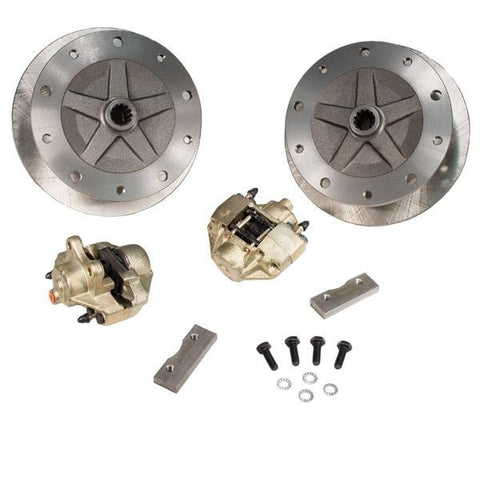 Rear Disc Brake Kit, Non e-Brake, 1″ Offset, Weld On Brackets, Wide-5 VW Pattern – 5 x 205mm
Description:
Disc Brake Kit, Rear, Non e-Brake, 1in. Offset, Weld On Brackets, Wide-5 (VW Pattern – 5×205)
The Wide-5 Extra e-brake kit is a full 1″ wider PER SIDE! Perfect for off-road Things, Baja Bugs, and buggies. Once again, So Cal Imports comes through with an air-cooled VW industry first at an incredibly affordable price! The first 100% bolt-on wide-5-lug rear disc brake kit was developed to give the off-road enthusiast a heavy-duty disc brake system that would put up with the real world punishment dished out by the high-desert, Baja, and Dune Buggy enthusiasts. As an added bonus, this kit increases the rear track of your vehicle by 2-inches making for increased stability. Because of this extra width, most wheels and tires will not fit under fenders if installed on a street car.
Kit Includes:
• (2) Wide 5 Rotors 5 x 205mm
• (2) Calipers
• (2) Welded Caliper Mounting Brackets
• (4) Brake Pads
• (2) Seal Kits
• Mounting Hardware
• Installation Instructions
Note: Will work with wider than stock trailing arms.
Note: Must use 15″ Wheels!
Application Info:
| MAKE | MODEL | YEAR | BODY TYPE |
| --- | --- | --- | --- |
| Volkswagen | Beetle | 1968 - 1970 | Convertible |
| Volkswagen | Beetle | 1968 - 1977 | Sedan |
| Volkswagen | Beetle | 1968 - 1977 | Sunroof |
| Volkswagen | Thing | 1973 - 1974 | Base |