Disc Brake Kit, Rear, e-Brake (Blank Pattern)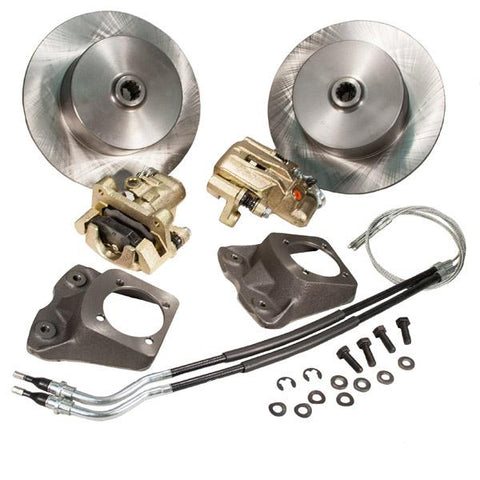 Disc Brake Kit, Rear, e-Brake (Blank Pattern)
Description:
AC Industries Short Spline Axle Rear Disc Brake Kit with e-Brake.
AC Industries' set the highest standard of disc brake kit quality with their unique nodular iron caliper brackets. The superior strength nodular iron caliper brackets maintains proper caliper-to-rotor alignment and will not flex, bend or crack during normal service, like the typical stamped metal brackets found in lower quality kits. Nodular iron caliper brackets offer a much higher level of increased safety, durability and longevity!
Kit includes:
• (2) Rotors with blank pattern
• (2) Calipers
• (2) Nodular iron caliper mounting brackets
• (4) Brake pads #D201
• (2) e-Brake cables
• (2) Seal kit
• Mounting hardware
• Installation Instructions
Note: Will Fit '67 with Short Spline Axle ONLY!
Note: Requires two 25″ long metal brake lines part #113611764B
• Replacement pads available here: #D201
Application Info:
| MAKE | MODEL | YEAR | BODY TYPE |
| --- | --- | --- | --- |
| Volkswagen | Beetle | 1958 - 1967 | Convertible |
| Volkswagen | Beetle | 1958 - 1967 | Sedan |
| Volkswagen | Beetle | 1958 - 1967 | Sunroof |
| Volkswagen | Karmann Ghia | 1958 - 1967 | Convertible |
| Volkswagen | Karmann Ghia | 1958 - 1967 | Coupe |