Front Disc Brake Kit, Stock Disc Spindles, 5-Lug Dual Pattern Porsche/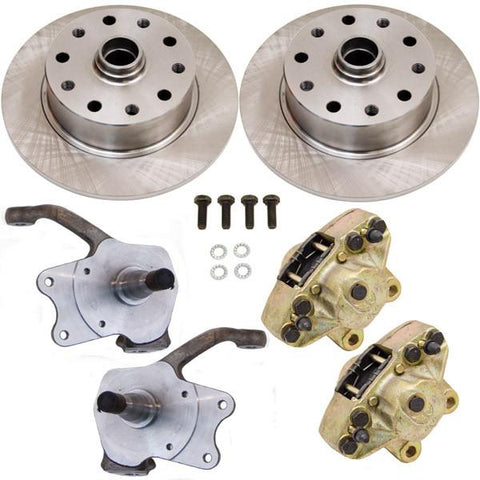 Front Disc Brake Kit, Stock Disc Spindles, 5-Lug Dual Pattern Porsche/Bus – 5 x 130mm & 5 x 112mm(1966-77)
Description:
Better stopping power is something every VW can use. AC Industries has done all the research necessary to provide complete kits to make the disc brake conversion process as painless as possible.
Kit includes:
• (2) Rotors with 4 x 130mm VW pattern
• (2) New stock ball joint spindles
• (2) Calipers with D101 pads
• Caliper mounting hardware
• Installation Instructions

NOTE: Bearings and seals available separately: part #498490L

NOTE: Requires 15″ wheels or larger. This kit will not work with 14″ wheels.
NOTE: 1966 to mid-1968 ball joint front suspensions will require later model 12mm outer tie rod ends installing this kit:
• 12mm left outer tie rod end (Part#: 311415811C)
• 12mm right outer tie rod end (Part#: 311415812C)

On 1966-1968½ Bug & Ghia the customer must verify what existing spindles on the car. When switching to new replacement spindles, these are all late style 1968 ½ and later spindles that require the correct 1968 ½ and later tie rod ends. Please read our explainer article to identify what spindles your car currently has so you can confirm if you need to buy late model replacement tie rod ends. It is the customer's responsibility to purchase the correct tie rod ends.
• Replacement pads available here: #D101
Application Info:
| Make | Model | Year | Body Type |
| --- | --- | --- | --- |
| Volkswagen | Beetle | 1966 - 1970 | Convertible |
| Volkswagen | Beetle | 1966 - 1977 | Sedan |
| Volkswagen | Beetle | 1966 - 1977 | Sunroof |
| Volkswagen | Karmann Ghia | 1966 - 1974 | Convertible |
| Volkswagen | Karmann Ghia | 1966 - 1974 | Coupe |