No Hassle Front Disc Brake Kit, Fits Stock Drum Spindles, Blank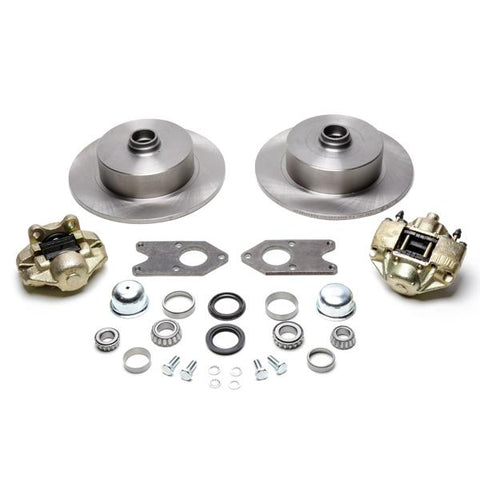 No Hassle Front Disc Brake Kit, Fits Stock Drum Spindles, Blank
Description:
One of the best upgrades you can do for your classic air-cooled VW is to upgrade the old drum brakes to disc brakes. The AC Industries' No Hassle Disc Brake Conversion Kits now makes it easier than ever! This first in the industry is 100% bolt on. This kit is so simple to install, that if you can repack your own wheel bearings, you can do this install yourself. There are no spindles to change, just remove the drums and backing plate and replace them with the supplied O.E. quality disc brackets. Install the new rotor and caliper and bleed the brakes. Yes, it's that simple! Fits cars with link pin front suspensions from 1949 to 1965.
Kit includes:
• (2) Rotors with Blank Pattern
• (2) Grease Caps
• (2) Grease Seals
• (2) Inner Bearings
• (2) Outer Bearings
• (2) Caliper Mounting Brackets
• (2) Calipers with #D101 Pads
• Caliper Mounting Hardware
• Installation Instructions
NOTE: Kit reuses backing plate bolts to mount caliper bracket.

NOTE: This kit will add .75″ of offset to each side of the car.

NOTE: Requires 15″ wheels or larger. This kit will not work with 14″ wheels.

NOTE: THIS KIT CANNOT BE USED WITH DROPPED SPINDLES

NOTE: THIS KIT CANNOT BE USED WITH BACKING PLATES
Application Info:
| Make | Model | Year | Body Type |
| --- | --- | --- | --- |
| Volkswagen | Beetle | 1949 - 1965 | Convertible |
| Volkswagen | Beetle | 1949 - 1965 | Sedan |
| Volkswagen | Beetle | 1949 - 1965 | Sunroof |
| Volkswagen | Karmann Ghia | 1956 - 1965 | Coupe |
| Volkswagen | Karmann Ghia | 1957 - 1965 | Convertible |