No Hassle Front Disc Brake Kit, fits Stock Drum Spindles, Blank Patter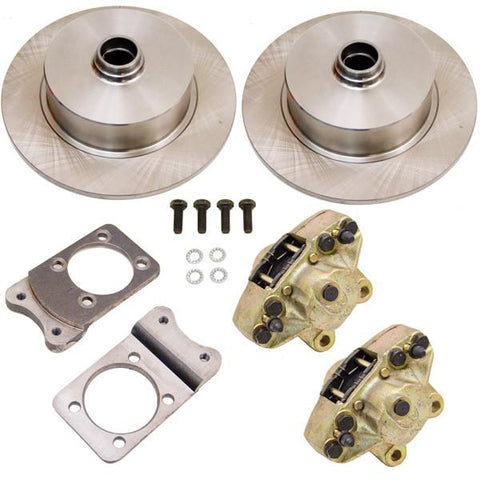 No Hassle Front Disc Brake Kit, fits Stock Drum Spindles, Blank Pattern
Description:
Convert your stock Super Beetle drum brakes to disc brakes with AC Industries' No Hassle disc brake kit. No need to change spindles as this No Hassle kit will bolt on any stock Super Beetle drum spindle! Rotors come blank and must be drilled*. This kit will NOT add to the off set of the car.
Kit includes:
• (2) Rotors with blank pattern*
• (2) Caliper mounting brackets
• (2) Calipers with #D101 Pads
• Caliper mounting hardware
• Installation Instructions
Note: Kit re-uses backing plate bolts to mount caliper bracket.

Note: Bearings and seals available separately part #498490L.

Note: Kit requires two extra 10″ metal lines part #113611735D available separately.
Note: This kit requires 15″ wheels or larger. This kit will not work with 14″ wheels.

THIS KIT CANNOT BE USED WITH WITH BACKING PLATES!
Application Info:
| Make | Model | Year | Body Type |
| --- | --- | --- | --- |
| Volkswagen | Super Beetle | 1971 - 1977 | Sedan |
| Volkswagen | Super Beetle | 1971 - 1977 | Sunroof |
| Volkswagen | Super Beetle | 1971 - 1979 | Convertible |