Front Disc Brake Kit with Drop Spindles, 4-Lug VW Pattern – 4 × 130mm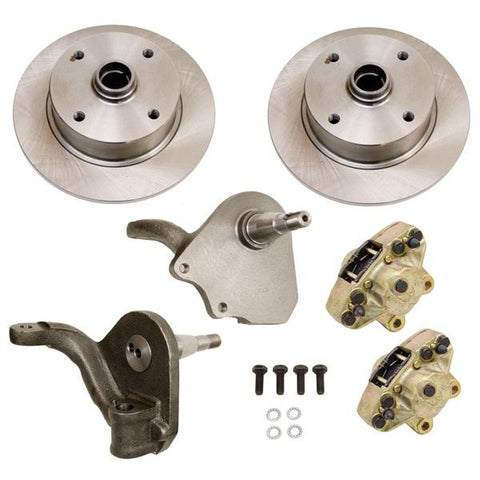 Front Disc Brake Kit with Drop Spindles, 4-Lug VW Pattern – 4 × 130mm
Description:
Disc Brake Kit, Front, Droped Spindles, 4-Lug (VW Pattern – 4×130)
Better stopping power is something every classic air-cooled VW can use. AC Industries has done all the research necessary to compile complete kits for the Volkswagen Bug & Karmann Ghia to make the disc brake conversion process as painless as possible. Dropped spindles lower your Volkswagen approximately 2.25″. This kit will widen the front track of your Volkswagen by approximately .25″ per side. Drop spindle uses '68 and later VW Beetle bearings and seals (sold separately, part #498490LP)
Kit includes:
• (2) New rotors with VW pattern – 4 × 130mm
• (2) Link pin dropped spindles
• (2) Calipers with D101 Pads
• (1) Caliper mounting hardware
NOTE: Bearing & seal kit sold separately, part #498490LP
NOTE: Requires 15″ wheels or larger. This kit will not work with 14″ wheels.
• Replacement pads available here: #D101
Application Info:
| MAKE | MODEL | YEAR | BODY TYPE |
| --- | --- | --- | --- |
| Volkswagen | Beetle | 1949 - 1965 | Convertible |
| Volkswagen | Beetle | 1949 - 1965 | Sedan |
| Volkswagen | Beetle | 1949 - 1965 | Sunroof |
| Volkswagen | Karmann Ghia | 1956 - 1965 | Coupe |
| Volkswagen | Karmann Ghia | 1957 - 1965 | Convertible |