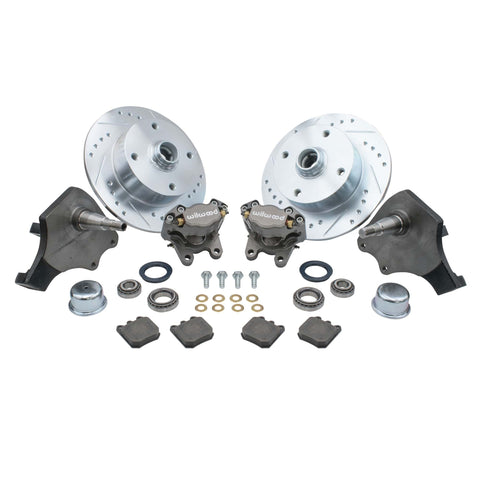 Wilwood Front Disc Brake Kit, Drop Spindle, 4x130mm, Type 1 & Ghia 66-74
Description:
Drop your front stance 2-1/2", and add the benefits of disc brakes all in one package. Converting your 1966 thru 1977 VW Bug or Ghia from drum to disc brakes is made simple with this conversion kit. This kit comes with drop spindles that convert your car to a late model ball joint spindle point and uses late model Ghia style brake rotors. This cross-drilled and slotted rotor comes with M14-1.5 threaded holes with a VW 4x130mm pattern. Wheel studs are not included. Calipers available in Gray, Black, and Red.
Complete kit includes:
High-performance Wilwood calipers (depending on your choice of color)

High-performance Wilwood brake pads
Drop spindles

SKF bearings
Caliper Bolts
Application:
VW Type 1 Bug 1966-71
VW Karmann Ghia 1966-74
Note:
WILL NOT Work on Super Beetles
1966-68 Vehicles will require 1969 and later Tie Rod Ends at the spindle.
Must use with 15" wheels or larger.
This kit is for VW Type 1 Ball Joint vehicles.

Warning: It is extremely important that brake kits & brake lines be installed by a trained mechanic. Proper length of each line in relation to wheel travel and steering angle is critical to avoid brake failure. Equally important is that the brake lines must be free flowing and have no contamination. Additionally, all calipers must be bled properly, regardless of kit purchased. Do not attempt brake line or caliper installation without the experience to properly evaluate all these issues.