Type 4, Dual IDF AA Carburetor Kit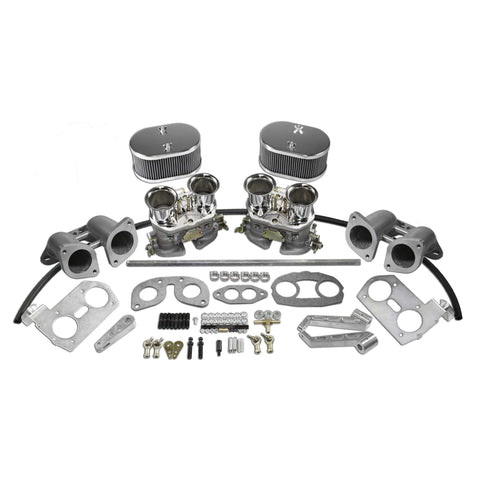 Type 4, Dual IDF AA Carburetor Kit
Description:
This is a brand new AA Performance Dual Carb Kit with AA linkage and manifolds. They are a copy of the "Weber IDF" Kit, featuring dual AA carbs with chrome velocity stacks, all necessary hardware, hoses, and clamps for installation.
AA air cleaners feature stamped steel bodies. Manifolds feature a 3 and 4-hole stud pattern, allowing them to work with VW Porsche heads. Linkage features a hex cross bar that is linked to air filter bases for a nice sturdy connection.  Matching tops and mesh air filters give the kit an overall professional look.
Engine: Air-cooled VW Type 4, 411, 412, Porsche 914, and 912E
Please select your carb size at the top.
If you have any carb-sizing questions, feel free to contact us for advice! That's what we are here for!