Type 1, Dual IDF Carburetor kit w/ CB manifolds & linkage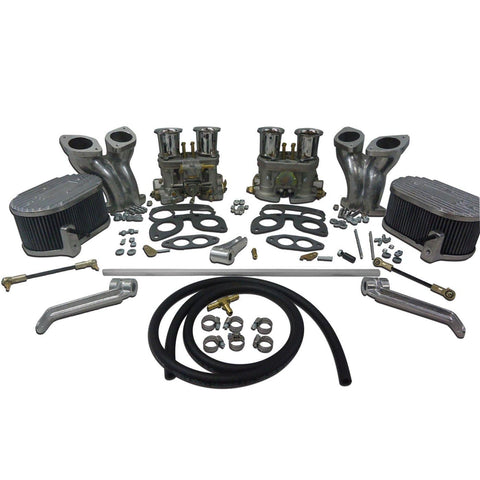 Type 1, Dual IDF Carburetor kit w/ CB manifolds & linkage
Description:
This is a brand new AA Performance Dual Carb Kit with CB performance linkage and manifolds. They are a copy of the "Weber IDF" Kit, featuring dual AA carbs with chrome velocity stacks, all necessary hardware, hoses, and clamps for installation.
CB air cleaners feature high-quality aluminum bodies. CB manifolds are offset so the position of the carburetors are straight across the engine to eliminate the body clearance problems associated with non-offset manifolds, making them easier to install and provide more working area around the carburetor than other types of intake manifolds. Manifolds are cast extra thick to allow porting and matching to existing big valve cylinder heads. Linkage features a hex cross bar that is linked to air-filter bases for a nice sturdy connection. Matching tops and mesh air filters give the kit an overall professional look.
Engine: Air-cooled VW Type 1 Dual Port and Early Bus Dual Port.

If you have any carb-sizing questions, feel free to contact us for advice! That's what we are here for!