Super Dual Port Longblock Complete Engine Kit Valve Cover to Valve Cov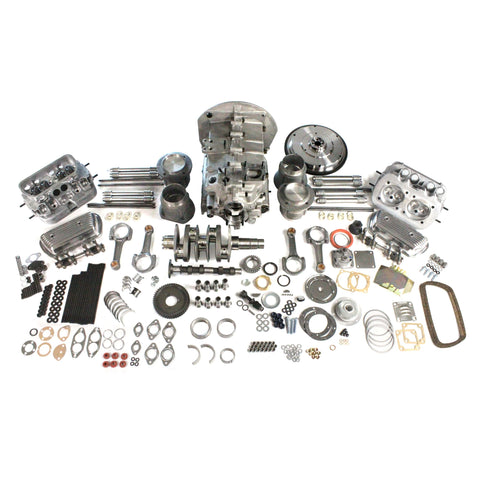 Super Dual Port Longblock Complete Engine Kit Valve Cover to Valve Cover
Description:
Even if items shows out of stock, please give us a call we might be able to build you the kit
Looking for a kit to build a complete Type-1 dual port longblock? Look no further. This is a Brand New Complete Super Longblock kit, Valve Cover to Valve Cover. Comes with everything you need to fully assemble. Assembled with the same quality parts as our stock rebuild kit. The super longblock includes higher quality forged components.
Available as 1600, 1641 or 1688 Thick-wall. Choose engine size above.
This kit features the following parts:
(1) Autolinea Aluminum Stock Engine Case
(1) Case Stud & Relief Valve Kit
(1) 8mm Chromoly Stock Head Stud Kit
(1) Forged I-Beam Rods
(1) 69mm Forged Crank
(1) Crankshaft Gear Set
(1) Silverline T1 Main Bearing Set
(1) Silverline T1 Cam Bearing Set
(1) Silverline T1 Rod Bearing Set
(1) 1600cc Engine Gasket Set
(1) Engle W-90 (Or 100) Cam, With Bolts
(1) Aluminum Bolt-on Camshaft Gear
(1) Engle Type-1 Performance Lifters Set
(1) Schadek 26mm Gear Oil Pump with Oil Pump Cover
(1) Deluxe 8mm Engine Hardware Kit
(1) 200mm Type-1 Forged Lightweight Flywheel
(1) Standard 36mm Chromoly Gland Nut & Washer
(1) Type-1 Piston & Cylinder Kit, 1600, 1641, 1688*
(8) 1600cc Push Rod Tubes
(2) Dual Port Heads, 35.5mm Intake 32 mm Exhaust Stainless Valves
(1) Stock Length Push Rods Set
(1) Bolt-on Aluminum Valve Cover Kit
(1) Chrome Sump Plate and Magnetic Drain Plug
(1) 1.25 Rocker Arm Assemblies with Stock Style Shafts
(1) Assorted set of Cylinder Shims
(1) Distributor Drive Pinion Gear
(1) Distributor Drive Pinion Spring
(2) Distributor Drive Pinion Shims, 0.6mm
(2) Air Deflector Tin Plates, 8mm
(1) Type-1 Oil Screen, Large Hole (Late)
International Customers Please Note: The shopping cart only adds up the total Weight and will not break it down into multiple boxes. If the shipping charges look irregularly large please ask for a shipping Quote and we will be happy to help you out.