Tri Mil Header, 1-3/8 Standard, Fits 13/15/1600cc, Raw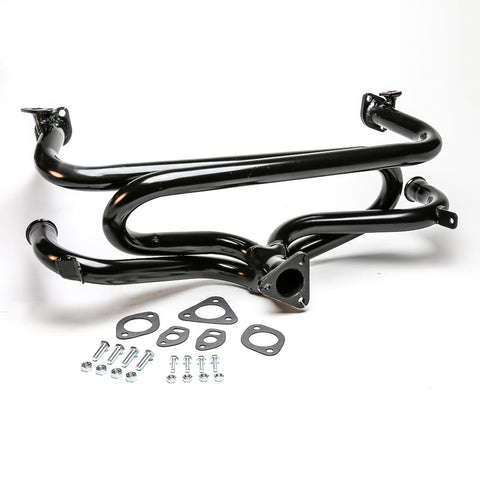 Tri Mil Header, 1-3/8 Standard, Fits 13/15/1600cc, Raw
Description:
Header System, 1-3/8 Standard, Fits 13/15/1600cc, Raw, Sold ea.
This Tri-Mil Header System with Heat Risers is designed as an aftermarket replacement and is made with 5/16″ thick flanges and uses 1-3/8″ dia. 16 ga. mild steel tubing, It is mandrel bent, mig welded and test fit to ensure optimum quality and performance. This header is designed to be used with stock/aftermarket heater boxes or j-tubes. This header will work on cars with 13/15/1600cc based motors and will not fit early cars still fitted with 1200cc motors and Super Beetles equiped with EGR or catalytic converter. Designed to fit the VW Bug, Ghia, Super Beetle, Bus and Thing.
Designed to be used with Tri-Mil's Single Quiet Pak Part# 2542-13, Dual Quiet Pack Part# 2544, Single Glass Pack Part# 2540
Note: Tri Mil Exhausts will no longer come painted.
Fits
Bug Sedan 1949 - 77
Bug Sunroof 1949 - 77
Bug Convertible 1949 - 70
Ghia Coupe 1955 - 74
Ghia Convertible 1957 - 74
Super Beetle Sedan 1971 - 77
Super Beetle Sunroof 1971 - 77
Super Beetle Convertible 1971 - 79
Bus All 1950 - 71
Thing All 1973 - 74
Part #: TM-1007H