Tri Mil Exhaust, Dual Quiet-Pak, Raw, Bug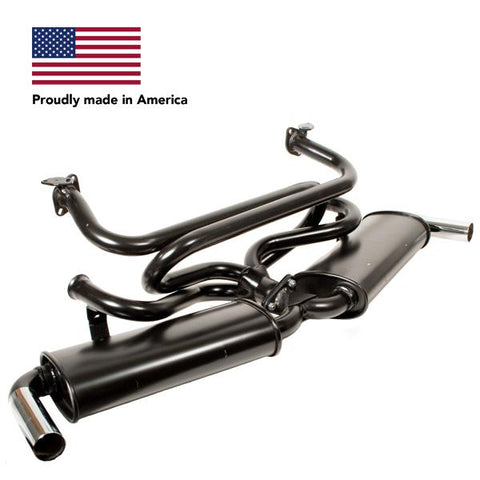 Tri Mil Exhaust, Dual Quiet-Pak, Raw, Bug
Description:
Tri-Mil Dual Quiet Pack Exhaust System, Raw, Sold ea
Designed to fit the VW Bug this Tri-Mil Dual Quiet-Pak Exhaust System with Heat Risers is made with 5/16″ thick flanges and uses 1-3/8″ dia. 16 ga. mild steel tubing, It is mandrel bent, mig welded and test fit to ensure optimum quality and performance.
This exhaust is designed to be used with stock/aftermarket heater boxes or j-tubes. This exhaust comes with hardware and gaskets to be installed.
This kit DOES NOT INCLUDE Exhaust Nuts or Clamps.
Note: Tri Mil Exhausts will no longer come painted.
Fits
Bug Sedan 1949 - 77
Bug Sunroof 1949 - 77
Bug Convertible 1949 - 70
Super Beetle Sedan 1971 - 77
Super Beetle Sunroof 1971 - 77
Super Beetle Convertible 1971 - 79
Part #: TM-1007D