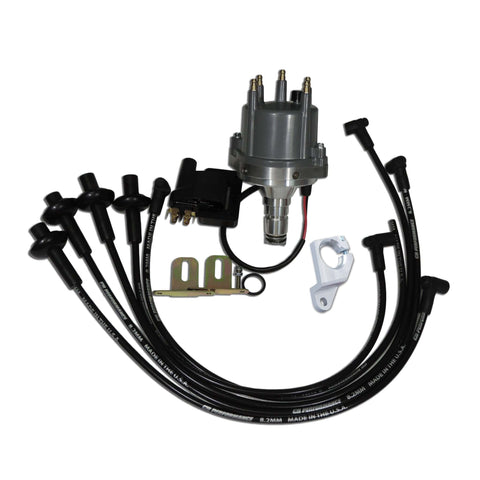 2000 MagnaSpark II Kit, with Distributor, Wires, & Coil
Description:
- Easy 2-wire installation works with most aftermarket coils, or an external spark controller box.
- To ensure quality, each MAGNASPARK II™ Distributor is CNC machined and assembled by hand.
- Accurate spark controlled all the way through 10,000 RPM.
- Hardened steel .50" diameter steel shaft with sealed quality roller bearing upper support and bronze bushed lower support for extreme stability at maximum RPM.
- Powerful magnetic pickup and CNC machined reluctor pickup.
- Fully adjustable advance mechanism with easy to use spring and bushing design for a nearly infinite advance curve.
- MAGNASPARK II™ module built in for drop-in reliability from 50 to 10,000 RPM.
- High quality injection molded caps with brass terminals for long life and conductivity.
Check out the PDF Instruction Guide Here.

NOTE: Magnaspark II will not fit T-3 or T-4, due to engine tin.
Available in Polished and Black.