Tri-Mil Targa Four-Tip Exhaust System with Heat Risers, Raw Steel Fini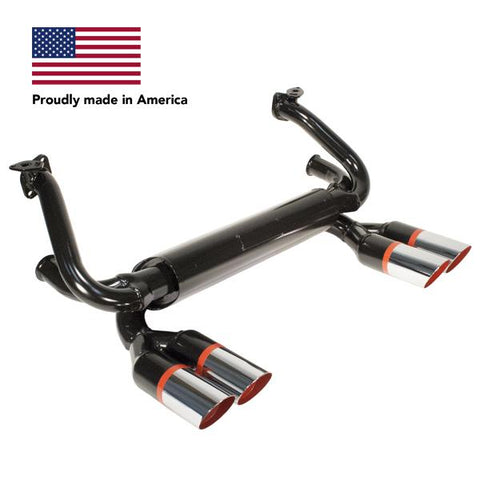 Tri-Mil Targa Four-Tip Exhaust System with Heat Risers, Raw Steel Finish with Chrome Tips
Description:
Exhaust System, Bug & Super Beetle, Targa 4-Tip, Heat Risers, Raw Finish w/ Chrome Tips, Sold ea.
This original made in the USA exhaust system from Tri-Mil has become a favorite of the VW enthusiast! Now this new updated version is even better with the wider bent primary tubes for greater fresh air hose clearance and the lower exhaust tips to help clear the aftermarket rear aprons! This quality USA made system is still constructed with 5/16″ thick flanges and 1-3/8″ mandrel bent primary tubing & formed muffler body. Internally baffled to give a deep performance sound. This exhaust fits up behind the apron, and the four 2″ tips exit out under the apron. This system might have clearance issues on some lowered cars. This exhaust is designed to be used with stock/aftermarket heater boxes or j-tubes. This exhaust comes with heat riser hardware and gaskets.
Fitment Note: Exhaust system designed for upright 1300cc, 1500cc & 1600cc motors only. Will not fit the 36HP & 40HP motors!
This kit DOES NOT INCLUDE Exhaust Nuts or Clamps.
Note: Tri Mil Exhausts will no longer come painted.
Part #: TM-2121-R